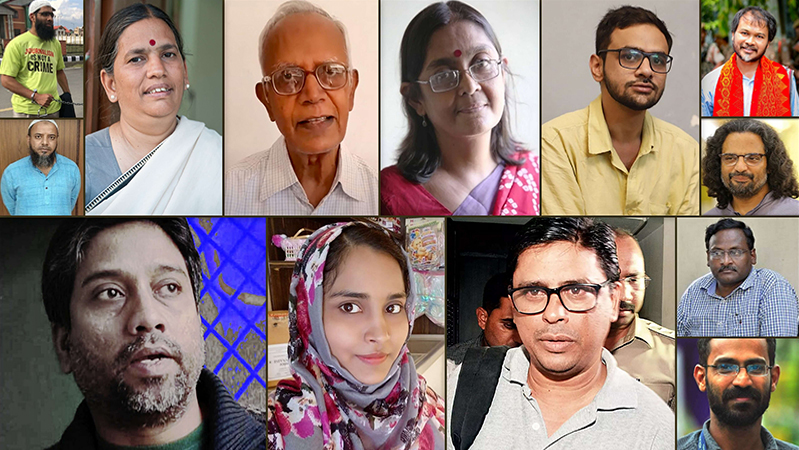 Covid-19 is a virtual death sentence for political prisoners! Release them now!
Political prisoners lodged in prisons across the country need to be released temporarily in the wake of the massive surge in COVID-19 cases. It is known that prison conditions are conducive to spread of a virus like COVID-19 and these political prisoners deserve to be released on bail
The second wave of the COVID-19 pandemic has hit India like a tsunami. People are scrambling for basic medical facilities, hospital beds, oxygen and drugs, even as their loved ones remain starved of basic medical attention. One by one, state governments are declaring lockdowns and urging people to stay at home in order to avoid physical contact with others. From the very start of this bleak period in 2020, we have been advised of the main protocols to be followed: social distancing and avoiding crowded places.
Yet, there are numerous under trials lodged in prisons, living in overcrowded spaces, away from their families awaiting trial, a trial which will take years to conclude. With courts back to functioning in an extremely restricted manner, the access to justice has been further denied or limited. Most or all, these trials will not see the light of the day for several months now. Functioning of courts had suffered in the first wave of 2020 itself and just when courts had started hybrid hearings or even fully physical hearings, the second wave has hit the country hard, recording the highest number of daily cases ever seen by any country.
In March 2020, the Supreme Court had suo moto (on its own) taken cognizance of the issue of congestion in jails, most of which are perennially over crowded. The court had directed the constitution of High-Powered Committees to determine which category of detainees/prisoners could be released on parole or on interim bail. Some states have, in the past few months, simply cancelled these paroles and bails leading, once again, to congesting of prisons and severe dangers to the health of undertrials. On the other hand, people have continued to get arrested in offences, petty or otherwise, automatically remanded to judicial custody, again adding to this congestion. Currently, it is hard to gauge how many prisoners are lodged in prisons across the states, the number is definitely bound to be quite high. Hence, through initial steps triggered by the Hon'ble Supreme Court of India's orders did lead to some de-congestion of jails due to undertrials being released, the situation as of April 2021 in most states is in fact back to square one.
Now, even as the HPCs are getting down to re-identifying categories of prisoners who can be released on parole/bails, there is a specific category of prisoners which may not get consideration and whose release is justified as they come under the class of 'political prisoners'. These are people who have been embroiled in cases that have emanated from criticism or speaking up against the government. A stark example is the incarceration of social activists, advocates and crusaders for human rights the Bhima Koregaon and Delhi Violence 2020 cases.
Why is it important to consider their case for release?
In the past year, quite a few cases have been dropped which were filed against anti-CAA protestors which points towards the futility of these long drawn out investigations and trials which may not lead to conviction and are just being used as a tool for harassment to subvert the cause of these activists and to muzzle dissenters. Essentially their arrest and incarceration was and remains a political act, often misusing provisions of draconian laws. While, it is the courts that will eventually decide whether they are innocent in the eyes of the law, the fact that the judicial process is currently denied these persons amounts to a gross denial of natural justice and due process. Trials will not commence any time soon and thus, a strong case is made to temporarily release these political prisoners in view of the COVID-19 pandemic so they don't have to live in overcrowded prisons and away from their family in such trying times of unprecedented crisis. Articles 14 and Article 21 of the Indian Constitution, and the rich and nuanced judicial interpretation of these provisions, demand this.
Cases such as the Bhima Koregaon case (Maharashtra police, now NIA), cases against protesters of the Citizenship Amendment Act (CAA), 2019, dubbed by the Delhi police as "conspiracy" – all cases under the draconian Unlawful Activities (Prevention) Act (UAPA) are instances of cases where the political brass has commandeered law enforcement agencies to incarcerate persons who have acted against their political interests leading to a litany of trumped up falsified charges against renowned advocates, activists and academics.
Even as the National Crime Records Bureau refuses to maintain a category of 'political prisoners', it is clear from the profile of the accused persons that their incarceration is a result of vendetta of the government for their social activism and for speaking up against the government. It is imperative that in this time of a health crisis, their right to life and dignity, a basic human right, is upheld and while they will continue to cooperate during trial, they do not deserve to be lodged in a prison, away from family and susceptible to contracting the virus in prison conditions. Already, Dr. Varavara Rao, Umar Khalid, GN Saibaba, Siddique Kappan, Akhil Gogoi, have contracted COVID-19 behind bars and we ought to prevent further spread in a bid to decongest prisons and to ensure a better quality of life for political prisoners.
Bhima Koregaon
The BK-16 or the 16 persons accused in the Bhima Koregaon case have remained in jail for the longest time, many of them are in prison since 2018, while Fr. Stan Swamy was jailed in 2020. Dr. Varavara Rao (81), a Telugu poet, was able to get bail for medical reasons, after several hearings and few rounds of the hospital and after contracting COVID-19 while in prison. Meanwhile Fr. Stan Swamy (84) is still struggling to secure bail. Others include Rona Wilson, Sudha Bharadwaj, Sudhir Dhawale, Arun Ferreira, Surendra Gadling, Vernon Gonsalves, Mahesh Raut, Shoma Sen, Gautam Navlakha, Anand Teltumbde, Hany Babu, Jyoti Jagtap, Sagar Gorkhe and Ramesh Gaichor. These form the BK-16: the 16 political prisoners who deserve to be released on bail as they are undertrials and trials are not expected to begin any time soon.
Father Stan, who turned 84 in April has Parkinson's Disease and suffers from hearing loss in both ears and an arm injury. He has undergone two hernia operations and is still suffering from abdomen pain. He also deals with intense pain due to lumbar spondylosis i.e., the wear and tear of the lumbar disc. He is currently in the prison hospital (Taloja Jail).
Sudha Bharadwaj, who is lodged in Mumbai's Byculla women's jail, suffers from two severe comorbidities: diabetes and high blood pressure. She also reportedly has a history of pulmonary tuberculosis. According to an Indian Express report, she has been having body ache, diarrhoea and loss of appetite after getting the first dose of vaccine some 3 weeks ago. The media has also recently reported that she also has an Ischemic heart disease, a heart problem caused by narrowing of arteries that causes reduced blood flow to the heart muscle and can lead to a heart attack.
Delhi violence 2020
Further, the conspiracy case related to the Delhi violence of 2020 where 18 accused have been charged under UAPA for inciting the violence through their speeches also deserve to be released on bail in such trying times of crisis. Those accused include Shafa-Ur-Rehman, Tahir Hussain, Khalid Saifi, Shadab Ahmed, Tasleem Ahmed, Salim Malik, Mohd Salim Khan, Athar Khan, Sharjeel Imam, Umar Khalid, Faizan Khan, Devangana Kalita, Natasha Narwal, Safoora Zargar, Gulfisha Fatima, Asif Iqbal Tanha, Meeran Haider and Ishrat Jahan.
These people, many of whom are PhD students, while some are activists in their own right, continue to remain incarcerated in the FIR no. 59/2020. Only Safoora Zargar has been spared long incarceration owing to her pregnancy which had grabbed international headlines.
In April, Umar Khalid was reported to have contracted Covid-19 in Tihar jail. He was running high temperature along with a throat infection and was isolated in the jail premises. Last year he had also complained to the Chief Metropolitan Magistrate Dinesh Kumar, for not receiving medical assistance for a tooth ache for more than 3 days and also being subject to mental humiliation amounting to torture.
Khalid Saifi, who is lodged in Mandoli jail, that had around 65 positive cases as of April 24, is diabetic, as per media reports. His wife told mediapersons that from April 19 to April 23, Khalid called her every day and said that he had a mild fever, throat infection, cough, weakness, and headache (all Covid symptoms) but had not been tested yet.
According to various media reports as of April 23, the Tihar jail had 227 Covid-19 active cases among jail inmates and 60 among jail staff, including a jail superintendent and two prison doctors. Tihar jail is where most of these prisoners are lodged.
Siddique Kappan, the journalist
Siddique Kappan, a freelance journalist was arrested on his way to Hathras on October 5 for carrying suspicious literature and booked under sections of UAPA and IPC, alleging promotion of enmity between different religions and funding a terrorist act.
Kappan had tested positive for COVID-19 on April 21 and after taking a bad fall in the bathroom was lodged in Mathura Medical College, where he was being allegedly ill-treated by being chained to his bed and not being allowed to use the bathroom. His wife also wrote the Chief Justice of India pleading for his release from the hospital back to his prison till his plea for release from jail is decided. Apart from testing positive for coronavirus, Siddique also suffers from diabetes, heart ailments and blood pressure issues.
The Supreme Court directed the Uttar Pradesh government to shift Kappan to a Delhi hospital for proper medical treatment after holding that "the most precious fundamental 'right to life' unconditionally embraces even an undertrial."
Gokarakonda Naga Saibaba
A Delhi University lecturer, GN Saibaba who is wheelchair bound and 90 percent differently abled from a post-polio paralytic condition, was particularly vocal about Operation Green Hunt, a drive against alleged Naxalites, where underprivileged sections fell prey to brutal assault by State forces. He has been sentenced to life imprisonment by Gadhchiroli Sessions Court in Maharashtra for having Maoist links and his bail application filed on grounds of ill health has been rejected by Bombay High Court in July 2020.
Since his arrest in 2014, his health has deteriorated at an alarming rate. He is also reportedly suffering from acute pancreatitis and impacted gallbladder stones that have been exacerbated by a 10-day hunger strikehe staged last year to protest against the conditions at Nagpur Central Jail.
He tested positive for COVID-19 in February 2021.
Akhil Gogoi
Akhil Gogoi, the leader of Krishak Mukti Sangram Samiti, Assam, was arrested in December 2019 in Jorhat and at least a dozen cases were filed against him in different police stations owing to the anti-CAA protests and the violence that followed. While he has been granted bail in 3 cases there are few others pending. He has been in jail for 16 months and has contested and won from Sibsagar in the recently conducted legislative assembly elections of Assam.
According to media reports, on February 29, 2021, he was rushed to the hospital after he complained of fever and stomach ache but after multiple tests were done, he was taken back to jail. He reportedly has a medical history of kidney stones, joint/bone pain and also liver bile afflictions. Between February 29 and March 6, the Guwahati jail authorities brought him to the Guwahati Medical College (GMC) twice for treatment. He had also tested positive for Covid last year in July.
As of April 29, 2021, the Bombay High Court in High Court on its own motion vs State of Maharashtra and Ors(Suo Motu PIL No. 1 of 2021), noted on April 16 that almost 200 inmates of correctional homes, all over the State, had tested positive and on April 18, this number had risen to 241. The number on April 28 stood at 244. "The rise in the number of positive cases has to be arrested", said the court. Further, on April 19, 97 staff members had tested positive, but as of April 28 such number has increased to 117, submitted the Advocate General.While this case only documents the status of prisons in Maharashtra, remainder of the prisons in the country could possibly have a similar or worse state of affairs if they continue to be congested.
In pursuance of the Supreme Court order in In Re : Contagion Of Covid 19 Virus In Prisons (Suo Motu Writ Petition (C) No. 1 of 2020), dated March 23, 2020, the High Powered Committee (HPC) has not met this year to decide a strategy to decongest prisons. This has resulted in massive overcrowding and dearth in resources.
CJP urges and request that these political prisoners be released on conditional bail forthwith. This will not only be a safeguard for the Right to Life (Article 21) of these political prisoners, but also de-congest India's overcrowded prisons.
SUPPORT THIS PETITION
50 have signed. Let's get to 100!
Recently signed by
| Name | City |
| --- | --- |
| Sarojeni Rengam | George Town |
| Rashmi Gera | Mumbai Suburban |
| Rohan Baban Sonawane | Mumbai Suburban |
Your personal data is safe with us, any collected data will be used for Citizens For Justice and Peace campaigns only and will not be shared to a third party outside of Citizens For Justice and Peace or their partners for commercial or any other gain.